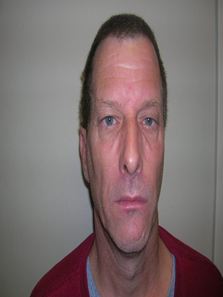 James K. Martin was born May 8th,1960. On the subject description form filled out by the WMPD, Martin was described as being 5'3" and 145 lbs. Additional descriptors were that he lived in Marion, Arkansas, was right-handed, attended one year of college, and drove a blue 1975 Toyota Corolla. At the time of the murders in 1993, Martin was married to Darlene Kinard Martin[1].
Martin came to the attention of the WMPD when he was called in for questioning as a result of being a known sexual offender in the area.[2] He stated that he was working at W.B. Davis Electric Supply, but was on vacation the week the murders took place. He claimed to have a second job working the night shift at Flash Market on East Broadway in West Memphis, AR. His shift beginning on Wednesday evening was 10pm to 6am. During his interview with police, Martin explained that his friend named Barbara - who informed him of the missing boys - lived on the corner of Goodwin and Barton.[3] Police later spoke to Darlene and she stated that Martin was home with her on the evening of May 5th, until he left for his 10pm shift.[4]
James Martin claimed to have insight into the mentality of the person/s responsible for the crimes because he was a convicted sex offender. He said that between 1984 and 1988 he molested both of his step-children, a son and a daughter. He was convicted in November of 1988 and served three years in the Colorado State Penitentiary at Freemont Regional Facility. Martin provided police with information he felt would aid in the investigation, though he claimed the information given to police was hypothetical (See below for a detailed summary of what he told police).[5] Social workers in Mississipi indicated that Martin had a history of writing bad checks and then leaving the state he was living in to escape prosecution. The social workers were also concerned that Martin was grooming the girls he lived with for future sexual abuse.[6]
Police spoke to Martin before turning on a tape recorder. Martin was asked the questions on the FBI questionnaire given to the WMPD to aid in the investigation. The police noted on the bottom of a couple of answers to the questionnaire that Martin "knew at least one of the boys by name".[7] Though it says in these notes that he knew at least one boy by name, another set of notes calls this statement into question. A brief outline of Martin's "hypothetical" pontifications about the killer read as follows: "position of trust / knew well - by name at least 1".[8] It is never clarified if Martin knew one of the boys by name, as stated on the bottom of the polygraph report, or if his mention of someone knowing at least one boy by name was a hypothetical part of the discussion.
Martin agreed to provide police with blood, head hair, and pubic hair samples.[9] He also took a polygraph. He failed two questions on the polygraph, including: "Do you know what was used to tie up those three boys?" and "Do you know who killed those three boys?". He said in the post test polygraph interview that he failed those two questions because he thought shoe laces would have been used during the murders because "logic tells him that the killer would use something already there". His explanation for failing the second question was that he thought "the father of Steve Branch killed the boys".[10] If Martin elaborated on the reasons he suspected the father of Stevie Branch it was not included in the report. In Martin's statement to police he clarified that he was talking about his step-father, Terry Hobbs.[11]
Martin's knowledge of the shoelaces is important to note because it was not included in any of the news articles relating to the murders. No other suspect had come forward with knowledge that shoelaces may have been used, including Jessie Misskelley, who stated that brown rope was used.
On various notes pertaining to Martin police made note of his mental health. One note was brief, stating "MARTIN 'Nuts' 5-18-93".[12] Another note read, "Haven't met anyone this crazy."[13]
May 19th, 1993, the WMPD contacted the parole office in Colorado to obtain records of Martin's prior offense. It was determined that Martin did not go through the parole office after his release from prison in January of 1991. The parole officer agreed to fax the pre-sentencing report to the WMPD so they could review the files.[14]
The WMPD recorded a note in Martin's file that stated on May 21, 1993, a Dr. Hickey reviewed the interview with Martin. He advised that Matin seemed to be obsessed with "psychiatric counseling". He also remarked that Martin "was aggressive". He recommended the police find more information on his friends and other aspects of his life.[15]
Martin was officially cleared as a suspect, although a date for this is not given. The paperwork is stamped with the date of August 25, 1993. It was stated that there was no evidence linking him to the crime scene or the victims.[16]
When the WMPD spoke to the manager of the Blue Beacon truck wash they learned that and man and "two young white male[s]" had come by looking for their son at 10pm.[17] The men were in a small car, described by the manager as a late-model Toyota.[18] This sighting of the two younger men in a small car would have closely coincided with the search of the woods conducted by Ryan Clark, Brit Smith, Robbie Young, and Richie Masters. Young and Masters approached two black males at the truck wash, asking if anyone had seen Chris or the other two boys. Young reported that the men told the boys "that the parents had already been by asking."[19] Masters gave a similar account, but said that the workers told the boys "that about 10 people had already asked".[20] It is unclear as to whether Young and Masters approached the Blue Beacon workers before the men in the small car or after.
Prior Sexual Offenses
James Martin told police that he turned himself in to his psychiatrist and requested help for an ongoing problem wherein he sexually abused his two step-children. He stated the abuse consisted only of oral sex, without penetration.[21]
In 1990, Martin's case manager in prison wrote a memorandum pertaining to consideration for a Phase One Offender Treatment Program. The case manager documented that Martin had been kicked out of a prior offender program. She described him as "defensive, resistive, blaming, inappropriate and belligerent."[22] He had been terminated from the previous program because of an unexcused absence. His files stated that he had poor motivation and minimized his problems.
Martin's case manager wrote the following: "I consider Inmate Martin to be an extremely high risk individual to reoffend and commit another sex offense. Unfortunately, he will be discharging from prison sometime during the first part of 1991. I would advise you keep me informed as to his discharge date so that I can notify police when he leaves."[23]
In July of 1991, Martin came to the attention of social services in Mississippi as a result of participating in an IRC private chat session.[24] A woman reported him after he admitted to her and another individual that he had previously molested his two children and was living with a woman and her children. The woman was concerned about Martin living with children as he had a history of sexual abuse. An additional person participated in the chat, identified only as "Aggro". Based on the details of the chat it appeared that Martin and this individual knew each other offline.
In the IRC chat, Martin ("puppy") and "Aggro" allude to having met personally. The two men make a number of statements that seem out of context, including:
puppy: we have met personally, but not that personally
Aggro: We haven't thrown a party together, yet.[25]
Martin explained he had molested his step-daughter and step-son. He provided some graphic details and said that he had been molesting his step-daughter for four years prior to abusing his step-son.[26]
"Hypothetical" Theorizing about the West Memphis Murders
He believed one person was probably responsible, as opposed to multiple people
Person responsible for the crimes was in a position of trust with at least one of the children
Probably appealed to the children by telling them it was a "game"
Explained that the game premise would allow the perpetrator to tie up the boys (i.e. "cops and robbers; cowboys and indians")
Children were tied before they were killed
The perpetrator would have done it "out in the open"
Perpetrator would bring their own "material" (i.e. rope, shoelaces, etc.)
Things got out of control when one of the boys no longer wanted to play along
The perpetrator knew what he was doing and would do it again if he wasn't caught
The person responsible does not always kill his victims
Something went wrong with the three boys, causing the perpetrator to kill them for the purpose of silencing them
The perpetrator will never feel the need to confess
The maximum number of people involved would be two because more people would talk about the murders
Said the boys were found in a "total different place than they were murdered"
The perpetrator would want to move the bodies because of all the blood
Felt the murders occurred within "200 feet" of where the boys were found
Two of the boys were getting upset and the perpetrator could not calm them down
Most sexual molestors of male children "don't want to have anal sex with them because it leaves to much uh, scarring and evidence"
Child molestors were victims of sexual abuse
He said if it was not a sexual crime then the kids probably stumbled on the individual doing something he shouldn't (i.e. using drugs)
Thought there were three bikes and one was still missing
The perpetrator would take something belonging to one or more boys that was "dearly beloved"
Perpetrator lives close to where it happened
Knew the area
The person would kill again, but it might not be a multiple murder
Specified "Branch's father" and stated he wasn't the real father before describing how he might sexually abuse his child
Said the person might have been molesting one child and the other two came around and discovered it[27]
The audio of the interview is here.
Recent Updates
As of 2010, Martin was registered on the Tennessee sex offender registry. His residence is listed as Mountain Home, TN, at the Veterans Center Psychiatric Ward. He is classified as "violent". It is interesting to note that since he is in a VA center, he was in the military at some point.[28]