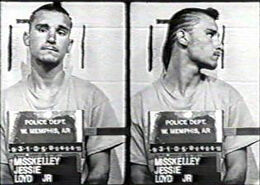 Jessie Misskelley Jr. (born July 10, 1975) is one of the three members of what has been called the West Memphis 3 (Misskelley,
Damien Echols
, and
Jason Baldwin
). The three were accused and convicted of a triple homicide in West Memphis, Arkansas.
Misskelley was arrested in connection to the murders on June 3, 1993. He confessed to the murders, which inculpated the other two accused. Under the "Bruton rule", his confession could not be admitted against his co-defendants and thus he was tried separately. Misskelley was convicted by a jury of one count of first-degree murder and two counts of second-degree murder. The court sentenced him to life plus 40 years in prison. His conviction was appealed and affirmed by the Arkansas Supreme Court. As of 2009, Misskelley remains in prison.
Ad blocker interference detected!
Wikia is a free-to-use site that makes money from advertising. We have a modified experience for viewers using ad blockers

Wikia is not accessible if you've made further modifications. Remove the custom ad blocker rule(s) and the page will load as expected.